11 Tips to Make Your Spring Clean a Gorgeous Success (and headache-free)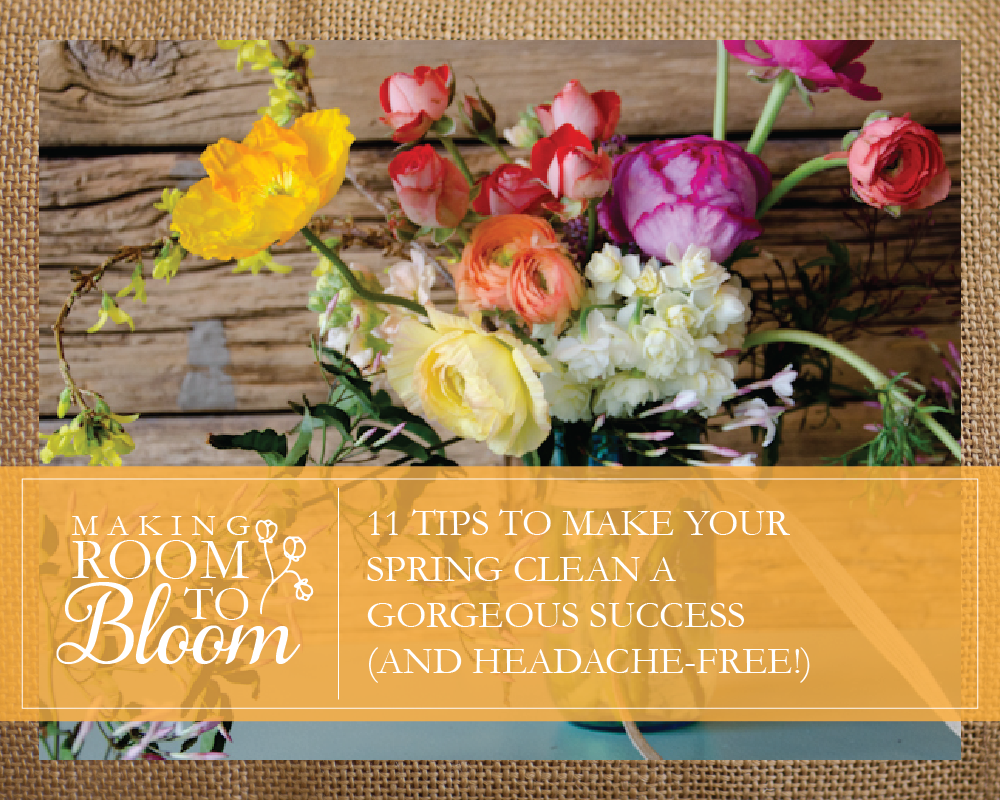 Well here we are at the final post in the "Making Room to Bloom Series!"
Over the last several weeks so many of you have written in sharing your hopes and visions for a big Spring Clean this year. It seems that "Making Room To Bloom" has truly struck a chord!  You've set clear intentions, shifted from a de-cluttering mindset to a multi-dimensional editing process, and committed to making your space support you and your dreams.
Creating a space that supports you + your dreams takes deep, heart-based inner work AND practical, make-it-real action steps.
I'm so proud of you! If I were there with you on your Big Day, we'd be clinking glasses and toasting to all that you have made room for! (P.S. We can totally make this happen if you're interested…Here's how.)  But assuming I won't be there, I'd like to round out this  series with a hodgepodge of my favorite practical tips.
These tips will  not only help you to clear your own space with greater ease and enthusiasm but will also motivate those of you who may be of the "hesitating type," to dive in and get started today!
Here's to making your Spring Clean end in spaciousness + success + inspiration. (And bu-bye, dusty piles, overwhelm, and headaches.)
My Top 11 Tips for Making a Big, House-Wide Edit a Raging Success:
1. Get trash bags. Lots and lots of trash bags.
Seriously: more than you think you need. Trash bags are so handy — and not just for throwing things away! Use 'em to help organize as you go. Make ready-to-go groups of bags for what you decide to toss, store, and donate.
And don't get cheapo trash bags! Do a teensy-tinsy splurge and get the ones that stretch and are nearly unrippable. You'll thank me — I promise!
2. Focus on one area at a time
It's easy to get overwhelmed when you're attempting to edit all of your worldly belongings. Slow down and dissolve the overwhelm by choosing to focus on one area at a time. First your bedroom closet.  Then under your bed.  Then your dresser.  Work your way around the room and then work your way around the house.
3. Remove everything from the area
I am a huge believer in this. Remove EVERYTHING from the closet, off the shelf or out of filing cabinet into a different location for editing. (Preferable a clean and clear one.)  For example you might take all of the contents from your dresser and place them on your bed or move the stacks of papers out of your office and work on your dining room table just for the day. Removing all items from a particular area helps reset the energy of the space which is very important.
 4. Make a pile for trash and a pile for donate.
So you've decided you don't want that sweater.  Is that because of the huge stain or because it reminds you of a rough time in your life?  If an item is still useable, put it in a different pile to be donated to a thrift store.
5. Stay on task. Finish one area before skipping to the next.
It can be tempting to hop from one area to another.  You break for lunch, and suddenly cleaning out the fridge becomes way more interesting than finishing your bedroom.  But there is a magic to completing things — and this is one of the best ways to build momentum.  So head back to the bedroom closet, finish it, and then move on the kitchen.
6. Have your cleaning supplies handy.
When you start shifting things around and clearing things out you are bound to find so dust and grim living in the corners of your home (and your heart.)  It is really important to not overlook this part though.  Putting your clean and organized things back into a dirty space really defeats the purpose.  Take a few minutes to wipe everything down, clean out the bottom of that drawer, and vacuum corners in the back of the closet.
 7. Think about how you function.
It's incredibly easy to fall into a routine with your space.  You put the knives in the top drawer because that's where your mom put them and you put the files in the closet because that's where your husband put them when you first moved in.  Take some time to really think about how you use your space.  Put things that you use regularly in easy to access places; put things you rarely use up high or in an additional storage option.
8. Make it look pretty!
I can't stress this tip enough.  When my shampoo bottles are in a tidy row, my day starts off better. Really! Put you decant things on a beautiful tray to display, buy cute boxes for your shoes, arrange your dishes in a colorful way.  I promise these seemingly tiny details truly make a difference.
Make your home and everything in it and artistic expression of you.
9. If it's going…. move it out, stat.
So you've loaded up those awesome trash bags with donations.  It's ever-so-tempting to let them sit there "just 'till the weekend," I know.  But a week can so easily turn into a month — and then you have a whole new clutter problem to deal with.  So resist the urge to let 'em sit.  Take 15 minutes to drive to your nearest Goodwill or Salvation Army and drop off your bags.  You will feel so, so glad that you took this final step. And often it is not until the "stuff" is gone for good, that you will experience the full underlying emotional release as well.
10. Give yourself permission to bring in something new.
Remember: we're not simply de-cluttering, we're editing. This is a multi-dimensional process that goes way beyond getting rid of things. It's about creating a space that reflects who you are and where you're going. So don't get caught in a restriction-only mindset. It is totally ok to bring in something new and beautiful. Something that reminds you of the beauty in your life and calls to your highest self.  Whether it's a mini Buddha, a bunch of roses, or simply a gorgeous new whisk, treat yourself! It can be something you need or something you want.
11. If you are struggling or getting stuck, bring in friendly reinforcements.
You really don't have to do this alone! Bring in friends or hire professionals to make it easier.  Of course, I'd be thrilled to work with you…but otherwise, invite a dear friend or two or moral and practical support. (Offer to return the favor the following weekend!) It really does make a difference having someone there not only keeping you focused but cheering you on along the way.
Now after all that hard work, put your feet up and pour yourself a glass of something bubbly (again!)  Look around at your amazing space.  This is who you truly are.  Take pride in this major accomplishment and make a plan to celebrate or do something you love! (More on this next week!)
Now I would love to hear from you…
In the comments below, tell me where you are at with your next big edit.  Have you started it yet?  Is it on your calendar?  What do you hope to accomplish?  Did your last Spring Cleaning turn into a disaster?  If so, why — and what will you do differently this time?
Until next week!
Sending you lots of love,
Rebecca
If you found this post useful please share it with your family and friends to spread the love.
Are we friends yet? Facebook * Twitter * Instagram * Pinterest?  Let's get connected!