Interior Coaching Program
A Private 3-Month Experience
Is your inner world calling out for some love?
Change your space. Change your life. Harness the power of a conscious relationship with your home.
Your environment is a crucial element of self-care.  If you have had it on the back burner for awhile, chances are your home is mirroring a bunch of unhelpful messages right back to you:
"I'm a mess."
"I'm overwhelmed."
"I'm stuck and alone."
"I can't make a decision to save my life!"
"Something needs to change and I don't know where to start."
"Everything is chaotic."
"Life is so hard!"
"I'm in limbo and just can't get going."
"Everybody else knows how to do this and don't."
Every moment you spend in your space affects how you see yourself, your ability to envision a better future and your capacity to feel loved, happy and whole right now.
Ready to replace those unhelpful messages with some loving support?
Then this 3-month private coaching program will change your world. Inside and out. Join me for a private expedition through your inner world and your interior space.  Together, we'll embark on the conscious creation of your beautiful life. Along your 3-month journey, you will receive personalized coaching and intuitive design from me.  Depending on your unique needs and goals, you can expect to:
Identify and set intentions for yourself and your space.
Receive personalized guidance and feedback from me, every step along the way.
Cleanse your life (internally + externally) of whatever no longer represents you or where you're going — and get support through the emotional process of letting go.
Weave together deep emotional work with the practical external actions that express it.
Get deep support as you make choices, ensuring they're in alignment with where you want to go.
Create a space that reflects and supports who you are, where you are in your life journey, and where you'd like to go.
Liberate your energy, spark your inspiration, deepen your sense of connection.
Enjoy more episodes of deep, abiding happiness.
Deepen and broaden your commitment to self-care.
Identify and cultivate daily habits and practices to support your values.
Celebrate the positive shifts in all of your relationships, as this work ripples throughout all of your life: from love to money, from health to spirituality.
This 3-Month Coaching Program is perfect for you if:
You're in the midst of a life transition and wondering how your home can stop holding you back — and start supporting you.

You're committed to personal growth and frustrated that nothing you do seems to "stick."

You're acutely aware of how your space is draining you and making you feel embarrassed, depressed, chaotic, confused, and lonely.

You know you have a lot of work to do, and the thought of tackling this challenge feels as overwhelming as climbing Mt. Everest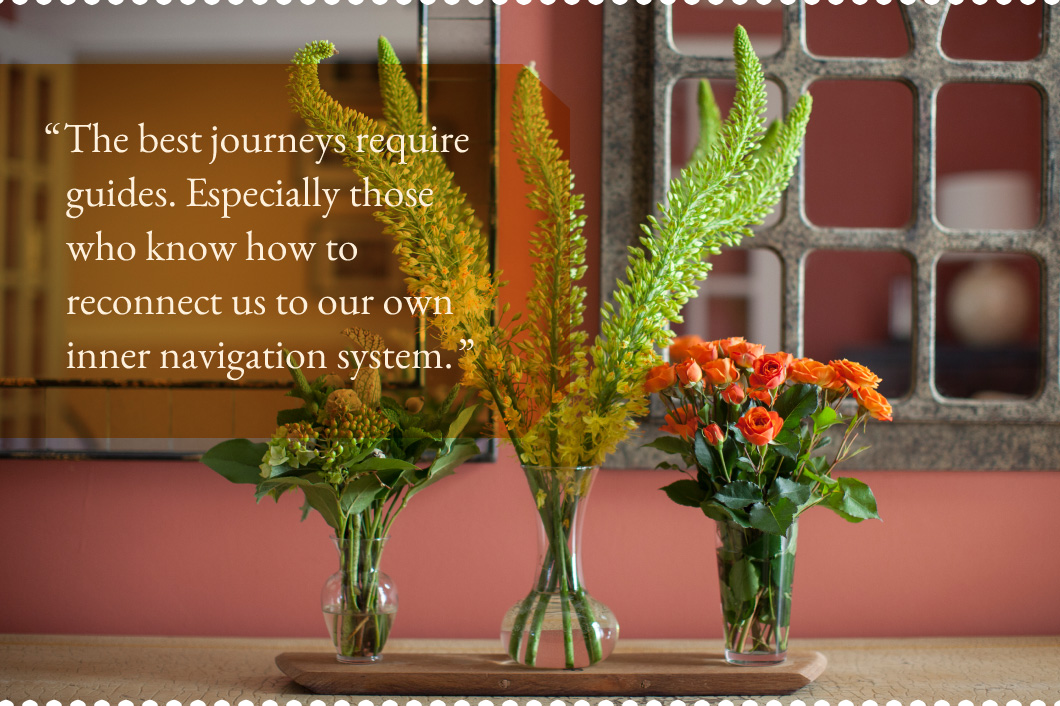 I know that "beautiful living" and "authentic design" mean something different for everyone.  I'm most interested in guiding you to your own sense of beauty, clarifying your (often secret) intentions and making way for your authentic meaning to shine right through.
Your journey includes:
Everything in the Discovery Session plus 3 additional months of coaching.
An extensive intake questionnaire, completed in advance.  You'll begin your own conversation about your space — and I'll know exactly where to start to support you best.
Initial 90-minute conversation via telephone or Skype.  We'll journey together through your inner world and your interior design.  It'll be gentle, nurturing, and illuminating.
Your personal illumination guide, a brief wrap-up document summarizing my main highlights from our call, along with 1-2 specific, high-leverage action steps you can begin taking right away.
Five additional 1-hour coaching sessions via telephone or Skype (for 6.5 hours total hours coaching).  Get ongoing feedback guidance, and redirection as you relate to your space in new ways.
Private shared Pinterest board for our ongoing collaboration.  We'll both add pieces of inspiration, visioning, and more in a shared creative experience.
Your Investment:
One payment of $1550 — OR — 3 monthly payments of $550.
You don't have to wait for your beautiful life to happen.  You can begin today.  I would love to help.
Contact me to schedule a short chat and decide whether this 3-month program is right for you.
Interested in other ways we can work together?                                                                       Check out my Discovery Sessions and Authentic Design Intensives.