Authentic Design Intensives
A One-on-One Collaboration in Your Space
Create your beautiful life — and a home for it to live in.
In a customized 1, 2, or 3-day intensive collaboration.
What are you ready to invite into your life?
More love, deeper connection, quicker laughs, effortless creativity?
Is it time to escort a few things to the door?
Mementos from a painful past. The embarrassing clutter. That hideous coat.
How can your space best support the next phase of your journey? Personal and life transitions are some of the most important times to update your space. Are you going through, about to go through, or been through any of the following?
Accomplishing some significant personal growth work
… and your space no longer reflects who you really are.
Getting married or moving in with a significant other
… and struggling to create a space that holds yours, mine and ours.
Buying your first home or moving to a new space or city
… and longing to put down real roots.
Welcoming a new baby or second child
… and need to make room for everybody.
Going through a divorce or a painful break up
… and need to find yourself again and create a space to move your life forward.
Losing a beloved partner, parent, or child
… and aching for a place to grieve and a haven to heal.
Going through a career transition
… and needing a space that supports clarity, success, and creativity.
Shifting into retirement, empty nest, or downsizing
… and needing to create a vision for the next phase of your life.
And:
you don't need to have gone through a major, external, or difficult transition to benefit from this work. Perhaps you're just ready for a little update or a jolt of vibrancy, joy, or some wild creation.
The Authentic Design Intensive is the most hands-on coaching experience I offer.
I'll travel to your home to work directly with you, in your space. Together, we'll dive deep, get real, and welcome meaningful lasting change into your space and your whole life.
An Authentic Design Intensive is perfect for you if:
You need to change your space and you need to do it now.

You work best in intensive, deep-dive formats.

You know you need someone by your side to keep you accountable and focused.

You'd love someone to shine a light in the dark places you can't navigate alone.

You want the ultimate experience of expert support and loving guidance.

You're going through a big transition and it's all hands on deck time.
I infuse every intensive with a sense of gentle, caring support. But you should also know: I'll keep us focused and on-task! I'm determined to shift you into the most beautiful vision of your life — and make it real — as quickly as possible.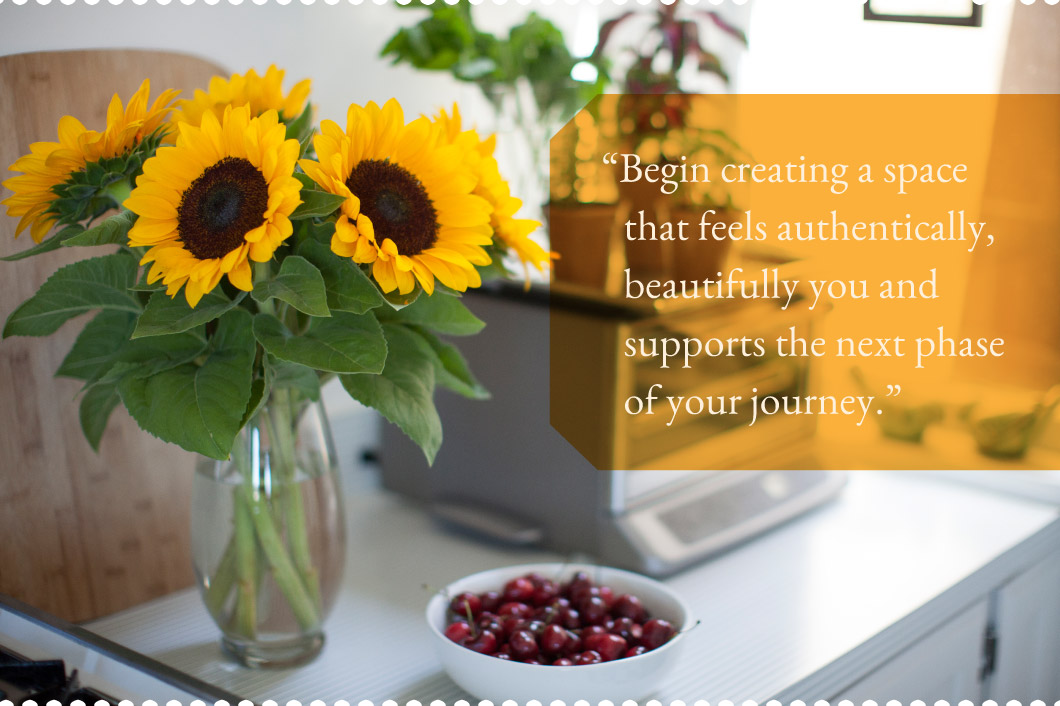 Expect to …
Harness the power of considering your space as a metaphor for your inner world.
Get my deepest support and the benefits of my experience, eye, and well-honed intuition.
Release what no longer represents your true self: inside your home and inside your heart.
Enjoy a safe space with gentle listening so you access your own intuition.
Begin creating a space that feels authentically, beautifully you and supports the next phase of your journey.
Infuse your inner and outer world with more intention and meaning.
Identify habits and practices that nurture the unfolding of your beautiful life.
Create more opportunities for indulgence — and learn to savor them.
Experience more effortless beauty and genuine self-expression.
Go at the pace that best serves you.
Feel supported, guided, and connected every step of the way. You are not alone!
Together we will customize your Authentic Design Intensive just for you — from length of stay to session content to color swatches.
Depending on your goals, elements will include:
Deep discovery sessions to identify your goals, your challenges, and the styles that support you best.
A careful walkthrough of your space. Point out to me everything you love and everything you don't. My trained eye catches refreshing possibilities. And my caring heart hears exactly how you feel.
Therapeutic coaching + therapeutic design. My unique integration of these two modalities brings out the best in them both — and in you.
Editing sessions to identify what needs to go: objects, clothes, colors, beliefs, doubts, habits — anything holding you back.
Alignment Action plans. Big visioning, practical suggestions, subtle shifts, and huge breakthroughs.
Collaborative shopping. Of the most fun sort. We may explore online or brick-and-mortar style together, working with tactile objects and ideas.
Gorgeous meals to delight your senses and inspire your sense of luxury.
If life is throwing a big transition your way — or you're creating an opportunity for a massive upgrade — an Authentic Design Intensive can harness this moment to create a whole-life transformation. You don't have to be confused. And you don't have to go through this alone.
If your time is ripe to welcome more beauty, meaning, and intention into your life — inside and out — I'd love to support you.
Ready to give yourself the gift of ultimate support?
You can have what you want. Your home can represent the best in you. And this experience will truly change your life.
Contact me for a free, 30-minute consultation to discuss where you are, where you'd like to go, and if an Authentic Design Intensive is the perfect bridge between the two.
Interested in other ways we can work together?                                                                       Check out my Discovery Sessions and Interior Coaching Program.