My New Word for "De-clutter" and Why it Changes Everything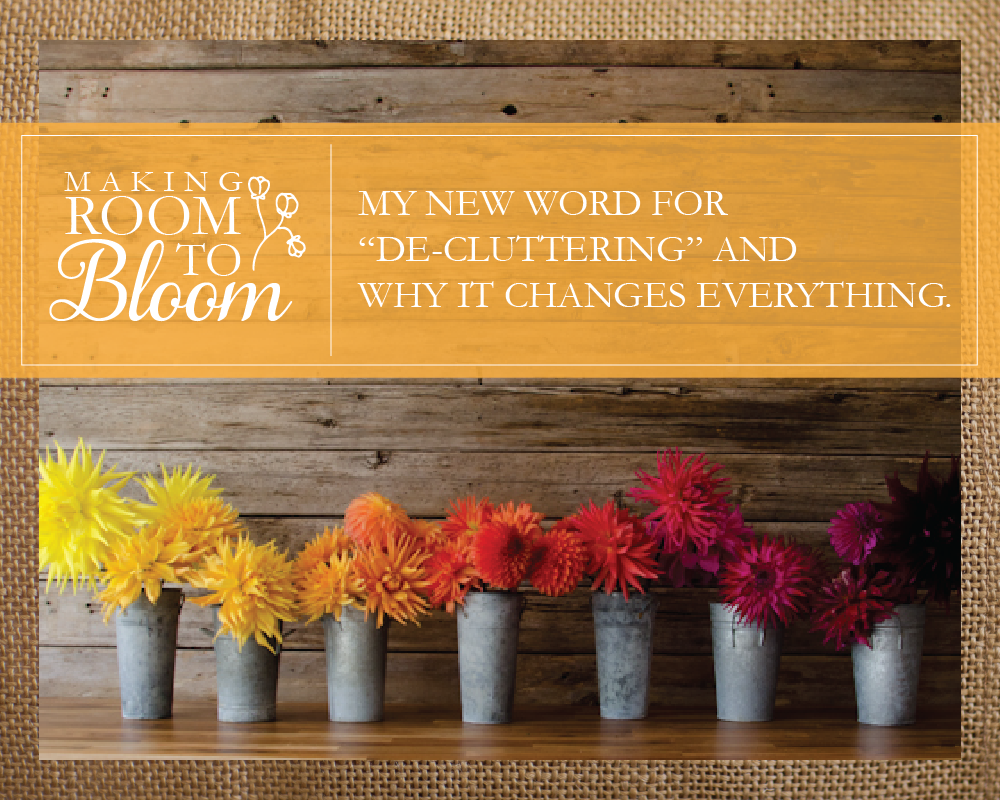 (Photo Credit – Studio Choo Florists)
So you're hip to the idea of a spring cleaning — not just to tidy things up, but to reconnect to your precious heart and desires. You're ready to squeeze every ounce of personal transformation you can from this process. You've identified some clutter — in your home and in your life — and you're ready to clear it out, and make way for new + beautiful things ready to emerge.
Awesome! Ok. At this point (even though you may think I am crazy)…
I beg of you: Please don't de-clutter!
What?? Have I lost my marbles? No. I have a completely different way to think about "de-cluttering" and trust me: it changes everything.
Don't De-Clutter. Edit.
I don't know about you, but the word "de-clutter" always has a major "ugh" factor in it for me. It sounds boring. Exhausting. Daunting and tedious. Like a long, painful process of agonizing over what to keep and what to toss. It's no wonder why so many of us put it off — easily finding something "better" to do, every time. Sound familiar?
Thankfully, I was introduced to the concept of "editing" years ago and I never looked back.
Here's how to start making the shift:
 De-cluttering is about your stuff. Editing is about YOU.
De-cluttering removes the things you (or your Mom or someone else) think "shouldn't" be there.  Editing breathes spaciousness, fosters flow, and sparks conscious evolution.
De-cluttering beckons my inner rebellious child who doesn't want to clean up her room.  Editing invokes my clearest, most creative and motivated self.
De-cluttering is draining. Editing is exciting and empowering.
De-cluttering is all about removing objects. Editing is multi-dimensional. From this place, you may remove whats no longer is serving you, but you also might add in spices of vitality and sweeps of beauty.  You could rearrange the furniture to create more flow or upgrade certain items to provide greater ease, support and joy.
De-cluttering places a magnifying glass over all the stuff and dust of your home. Editing places you at the center of the process. It helps acknowledge that your space and all the things in it are an extension of you. Beautiful, alive, ever-changing you.
Don't just deal with your space.

Shower it — and yourself – with loving attention.
When I was introduced to "editing" many years ago, it truly changed everything for me. Back then, I didn't want to deal with my space — it felt too overwhelming. But I did want to deal with me.
Editing placed me back in my power — at the center of my story — and from this vantage point, working with my space became a natural extension, an empowering creative process and an opportunity that created big shifts in my life.
Editing is the real, vital process of aligning your inner and outer worlds — in ways that support who you are now and who you are are growing into be.
Edit to move forward. To be more present and clear. To create greater flow and vitality. To let go of what's no longer serving you and to fill your space with what you love.
 Editing your space is an act of self -care and self -creation.
What are your thoughts?
In the comments below, I would love to know… Does "editing" feel different to "de-cluttering" for you? Does it change how you relate to the task of spring cleaning, to your space, to yourself?
Ready for more?
The next post in the Make Room to Bloom Series is right HERE.
If you found this useful please share it with your family and friends to spread the love. (Believe it or not their spaces affect you too! But more on this another day.)
If you're not already, be sure to subscribed to my newsletter (at the top right of this page) so you don't miss a post! We have a beautiful growing community and would to have you join us!
Sending love,
Rebecca