Making Room To Bloom!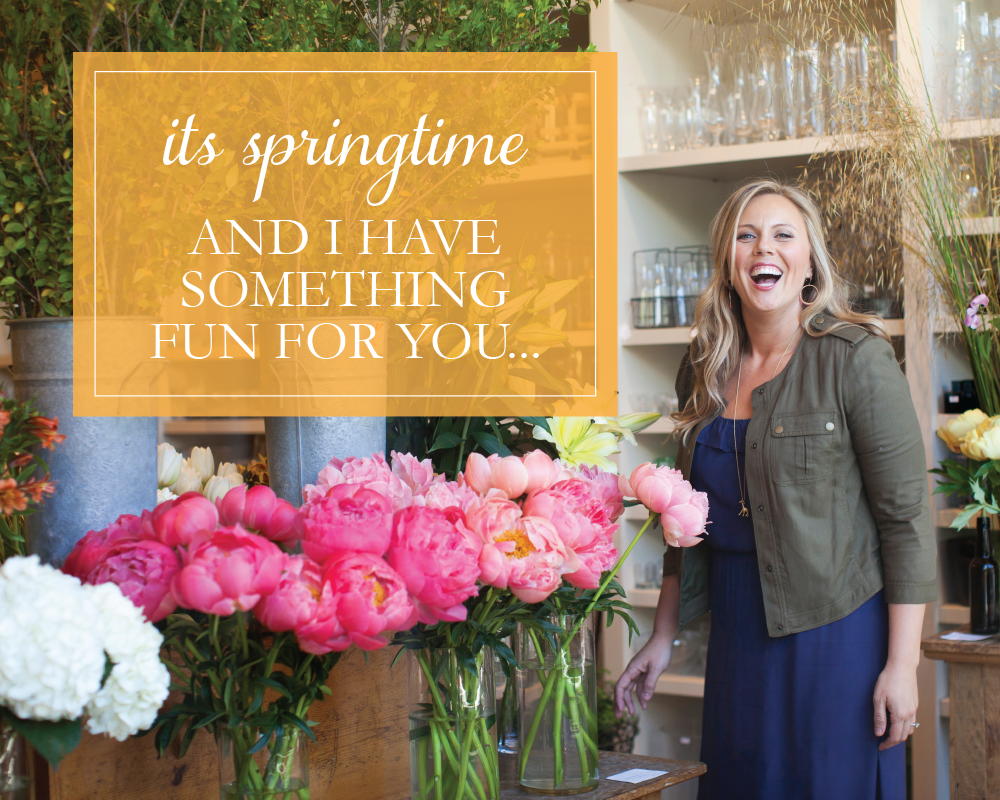 The spring energy has started to flow …
Have you noticed this yet? Even if the weather where you live hasn't warmed up yet, there's something shifting and fresh in the air.
I've loved the springtime since I was a little girl. I have a love affair with the flowers and the new colors of spring are always so exciting. Whether I'm walking through the park or the grocery store, it's easy to feel a little extra happy.
Spring brings a kind of hopefulness. A sense of a fresh start. An opportunity to grow, change, blossom … into more beauty, truth, and meaning. -Click to Tweet
But springtime's fresh start isn't just about bringing new things in. It's also about learning to let go, too. To release things that block us from truly blooming — both in our homes and in our lives.
Have you ever noticed that when something new is ready to bloom, it pushes everything in its way to the surface?
Like a bright-green seedling, fighting its way to the surface new things can be surprisingly strong and stir everything up a bit. Whether this "seedling" is a new career, a better relationship, a new baby, or a fresh sense of yourself — the shift can be uncomfortable.
This is the dark side of spring.
All that "stuff" we have to work through and release can be pretty unpleasant. It often feels irritating, overwhelming, and depressing. And it certainly doesn't have the light, happy bounce we usually associate with spring!
In the past, I was an expert at not facing my "stuff." I'd get whiney, stubborn, resistant, and defiant. There have been so many times in my life I've been in this place. Can you relate? I can still hear that little voice that would plead,
"Why do I have to deal with all this now?! I don't wanna do all the work and cleaning up. I don't have the time or energy. Can't I just magically transform into a beautiful flower — and skip the growing part? Pleeeease?!"
Magic might not exist. But choice does – and it's even better.
Over time, I've learned that I always have a choice. A choice between clearing my space and making room for what's ready to emerge — or continuing to tolerate being weighed down and surrounded by stuff that's already dead, but I can't quite let go of.
Imagine a delicate spring flower, struggling to burst through to the surface — being blocked by a tangle of weeds.
Now, imagine the life gardens we could create if we tended to the weeds growing in our homes. Our spaces. Our hearts.
Doing the deep work to clear your space is so worth it.
Sure, it can be tough. It took me a long time to work through all of my resistance and learn how to deal the emotions that come up in the process. But the amount of beauty, love, and joy this process allows to flow into my life makes the hard work well-worth the effort.
So this year, in honor or springtime… and to help inspire + motivate and support ALL of us in doing the powerful work together, I am delighted to announce…
The Making Room to Bloom Series: Spring Cleaning for Your Heart + Home…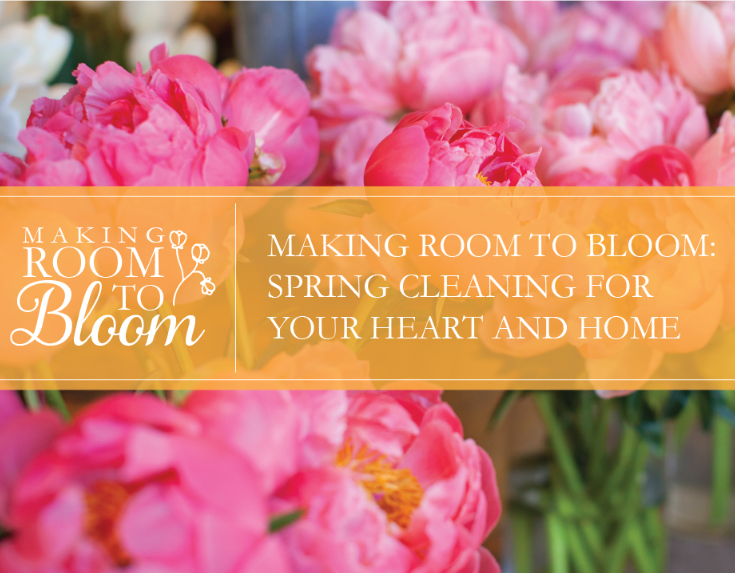 I'll be sharing a series of posts all about "Spring Cleaning" here on my blog. But please know: this isn't just about shaking those rugs and cleaning out your closets.
The Making Room to Bloom Series is about a Spring Cleaning, from the inside, out. It's a chance to give some loving attention to your home and your heart. It's not just about getting rid of things or cleaning (though that's often a very important part). It's about spending a few weeks reconnecting to your space, your self, and your life.
Got some dreams you'd like to dust off? Ready to perk up your energy by clearing out what's draining you? Wanting more peace, beauty, and productivity in your life?
Then I hope you will join me!
It's all happening here, on my blog and I am going to be cleaning my spaces right along with you! (I have a guest room closet that particularly needs some attention.)
For now, in the comments below, be sure to let me know if you are on board and name 1 thing you are ready to release.
Ready for more?
The next post in the Make Room to Bloom Series can be found HERE.
Also be sure to share this page with your family and friends to get them in on all the fun, and if you are not already, subscribe to my newsletter (at the top or bottom of this page)  so you don't miss a post!
I promise the experience will be gentle and fun as well as deep and actionable.  I can't wait to connect with you all!
With Love,
Rebecca